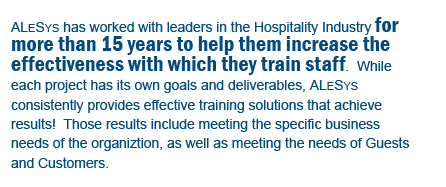 Develop job-specific training – Housekeeping, Restaurant Server, Bartender, Child Care, and more. We can help your organization by creating a standardized training process that certifies your employees to not only do their jobs well, but also focus on managing the Customers' experiences.
Transform the culture of your organization to a Customer-focused organization.
Reduce high turnover – Develop training, coaching, and job aids so that, even with high turnover, you can still deliver quality experiences to your Guests.
Provide consistent training across properties, while maintaining site-specific autonomy.
Measure training effectiveness.
Increase the effectiveness of Managers, Supervisors, and Team Leaders.
Increase the competence of employees to perform job tasks consistently. Well-trained, Customer-focused employees are critical to providing your Customers with a well-managed experience.
Standardize job tasks and processes to transform the training of your employees and the experiences of your Guests.
Provide leadership strategies for your organization to map out the future of your company.
Create an effective training function for your organization!
Outsource the management of your training function to AL
E
S
YS
. We'll make sure your employees receive the quality training they need to achieve your organizational goals.

AL

E

S

YS

is a proud member of:
Need More Info?
To learn more about how AL
E
S
YS
can partner with you to achieve the business results you expect, submit a
solution inquiry form
or call us at
1.800.758.1071
.