Our work is accomplished through a close partnership between our professional Project Team and your appropriate staff and content experts. We work together to identify and achieve the results you expect.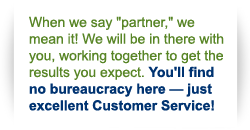 Our Customers are our only focus. We pay attention to what you say, and we partner with you to create solutions that meet your business needs and expectations. We provide you with a managed experience where deadlines and expectations are met, and a quality product is delivered on time! That is our guarantee!
When we say "partner," we mean it! We will be in there with you, working together to get the results you expect. You'll find no bureaucracy here — just excellent Customer Service!  We partner with our Customers to carefully analyze the business and the human aspects of your areas of concern. Then we jointly develop practical plans and strategies you can implement immediately. We explain, coach, and revise as needed to help you reach your goals.
We are honest and ethical — we always deliver what was agreed upon and on time. We don't make excuses! Our expertise is proven and our attention to detail and quality are unsurpassed. You will notice the ALESYS difference.
Each of your projects will have the same ALESYS Senior Project Team Leader assigned — someone who knows your business goals and processes well, and is familiar with your specific needs. Our team members are experienced professionals who know how to perform their assigned functions for your project. They're backed by ALESYS' proven practices and procedures, and they know how to work efficiently to get the job done to your expectations. We work with you to meet your deadlines, giving you on-time delivery of high-quality products and services. And most importantly, these products and services will get the results you have wanted for a long, long time!